Configurations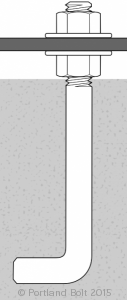 Another configuration of anchor bolt which is commonly used in the lighting industry is a bent anchor bolt. This type of anchor bolt has a short bent leg which forms an "L" shape. This bent leg provides resistance to prevent the bolt from pulling out of the concrete foundation when force is applied.
Most bent anchor bolts used for the lighting industry require 2 nuts and 2 washers per anchor bolt. Bent anchor bolts require an extra nut and washer for leveling purposes. When the concrete is poured and the base plate of the pole is set over the anchor bolts, the extra nut is used below the base plate to make the pole perfectly level. This allows room for adjustment in case the pole needs to be raised or lowered for levelling purposes.
Grades
In the lighting industry, bent anchor bolts are most commonly used with two different grades of the ASTM F1554 specification: Grade 36 and Grade 55. Portland Bolt stocks a wide variety of anchor bolts for the lighting industry in both grades of the F1554 specification which are shown in the chart below.
Though the F1554 Grades 36 and 55 are the most common grades used for bent anchor bolts in the lighting industry, there are many grades of steel which can be made in this configuration. Higher strength grades include, but are not limited to, A449, F1554-105, A354-BC and A193-B7. Most high strength, bent anchor bolts are not readily available and will need to be manufactured to the requirements of the project.
Dimensions
Grades in Stock
ASTM F1554-36, F1554-55
Stock F1554 Grade 36 Bent Anchor Bolts
| Anchor Bolt Size (D x L x C x T) | Hot-Dip Galvanized Part # |
| --- | --- |
| 1/2 x 8 x 2 x 4 | 12358 |
| 1/2 x 10 x 2 x 4 | 12030 |
| 1/2 x 12 x 2 x 4 | 12619 |
| 1/2 x 18 x 4 x 4 | 19579 |
| 5/8 x 8 x 2 x 4 | 17753 |
| 5/8 x 10 x 2 x 4 | 17755 |
| 5/8 x 12 x 3 x 4 | 17689 |
| 5/8 x 18 x 4 x 6 | 17658 |
| 3/4 x 6 x 3 x 4 | 14123 |
| 3/4 x 8 x 3 x 4 | 16600 |
| 3/4 x 10 x 3 x 4 | 16602 |
| 3/4 x 12 x 4 x 4 | 16604 |
| 3/4 x 14 x 4 x 6 | 18919 |
| 3/4 x 15 x 4 x 6 | 15981 |
| 3/4 x 16 x 4 x 6 | 18921 |
| 3/4 x 18 x 4 x 6 | 15983 |
| 3/4 x 24 x 4 x 6 | 16630 |
| 3/4 x 30 x 4 x 6 | 15989 |
| 3/4 x 36 x 4 x 6 | 19300 |
| 7/8 x 18 x 4 x 6 | 15985 |
| 1 x 12 x 4 x 4 | 19305 |
| 1 x 16 x 4 x 6 | 19296 |
| 1 x 18 x 4 x 6 | 15987 |
| 1 x 24 x 4 x 6 | 19298 |
| 1 x 36 x 4 x 6 | 15979 |
| 1-1/4 x 36 x 5 x 12 | 19594 |
Stock F1554 Grade 55 Bent Anchor Bolts
| Anchor Bolt Size (D x L x C x T) | Hot-Dip Galvanized Part # |
| --- | --- |
| 3/4 x 18 x 4 x 7 | 17979 |
| 3/4 x 24 x 4 x 7 | 17970 |
| 3/4 x 30 x 4 x 7 | 17981 |
| 1 x 36 x 4 x 7 | 17729 |
| 1 x 36 x 4 x 12 | 15976 |
| 1-1/4 x 32 x 6 x 7 | 17063 |
| 1-1/4 x 42 x 6 x 7 | 17064 |